"YOU ASKED ME"
I will tackle some of the most repeated questions I hear in my practice.
Does makeup cause acne? What is cosmetic induced acne? Are there makeup mistakes that age you? The unfortunate answer to these all too common questions is yes, makeup can harm your skin.
Does makeup cause wrinkles? If you commit this makeup mistake, then yes, makeup can cause wrinkles. Waterproof mascara's formula is meant to lock onto your lashes and stay put. These glue-like formulas require too much aggressive tugging and pulling to remove at the end of the day.
The skin around your eyes is the thinnest on your entire face. Fine lines and crows feet appear from age, sun exposure and gravity – most often in the form of day-in, day-out pulling and tugging on the skin. That's why using water-proof and "24 hour" mascaras is one of the biggest makeup mistakes that age you.
Avoid waterproof mascara if possible to avoid under eye wrinkles. If you simply can't stay away from these 'stay put' formulas, use a strong makeup remover that can help minimize the need for vigorous rubbing or tugging. I have several options in the spa I like to use. Dermalogica has a pre cleanse that melts away glitter, waterproof makeup and preps your skin for a second cleanse.
You use oil-based primers or foundation
Does makeup cause acne? If you have acne prone skin and use oil-based makeup, then yes, it can absolutely trigger your acne. If you are prone to excess oil and acne you should always choose primers and foundations that are labeled as oil-free and non-comedogenic. Everyone should avoid artificial fragrances and dyes, especially those with sensitive and acneic skin.
Makeup wipes
Do you use non-comedogenic makeup and still wonder 'does makeup cause acne'? If so, the culprit might not be your makeup, but what you use to remove it. When you use a makeup wipe, you only remove some of the makeup, dirt, oil and debris that has accumulated throughout the day.
This alone can cause acne because you are letting these particles sink into your pores and clog them. In addition, makeup wipes leave behind a residue that can spell trouble in terms of breakouts and irritation. Similar to waterproof mascara, wipes can actually cause fine lines, wrinkles and crow's feet due to the tugging that is necessary to get all your makeup off. Always opt for a professional grade makeup remover. These products remove makeup faster, more efficiently and risk-free compared to their makeup wipe counterparts.
Makeup Brushes
We are all guilty of using the same brushes or applicators one too many times, but cleaning your makeup brushes is vital to keeping your skin clear and healthy. Even if your makeup brushes appear clean to the naked eye, they can still contain breakout-causing dirt, debris, old makeup, and more. Dirty makeup brushes can even cause eye infections and fungal infections – yuck!
Even if your brushes seem clean, wash them at least once a month to avoid acne, irritation and infections.
Anti-bacterial or fragranced soaps are too harsh, so the best makeup brush cleanser is actually a high quality facial cleanser. Place 1-2 pumps of your professional facial cleanser in the palm of your hand. Thoroughly swirl your dampened makeup brush in a circular motion on your palm to rid the bristles of makeup, oil, and dirt.
After the cleanser on your palm changes color from the residual grime, continue the cleansing process under lukewarm, running water. Periodically squeeze the bristles to get a deep clean that's skin friendly. Repeat the process several times if needed.
When the water runs clear, wring out the bristles and let dry on a clean paper towel or cloth.
My number 1 rule that you must follow - remove your makeup at night
We know, we know, you've already heard this rule before. However, this is one of the biggest makeup mistakes that people still continue to make! When you sleep with your makeup on, you let the dirt, oil, debris, dead skin cells, makeup, and bacteria push deep into your pores. This leaves your skin prone to flakiness, breakouts, acne, premature age signs, irritation and more. Take the few extra minutes to cleanse your face properly. Trust us, it's worth it.
No such thing as a silly question. In fact I feel that if you are wondering, so is someone else.
https://angelhands.skincaretherapy.net/contact-information
HAVE A QUESTION FOR ME? USE THE CONTACT TAB TO SUBMIT AND I WILL DO MY BEST TO REPLY THE FOLLOWING MONTH.
Sunday - June 16 - Father's Day 2019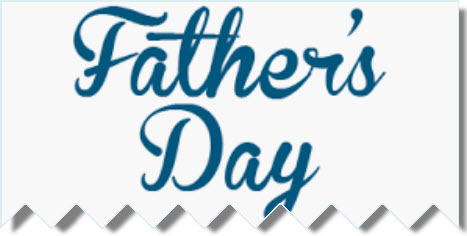 Father's Day in the United States is on the third Sunday of June.
It celebrates the contribution that fathers and father figures make for their children's lives.
Dad could really go for some Relaxation and Hydration, maybe a Gift Card?
https://angelhands.skincaretherapy.net/gift-certificates